Valters Puce, Artur Cinguyev and Hamidreza Rahbaralam (Latvia)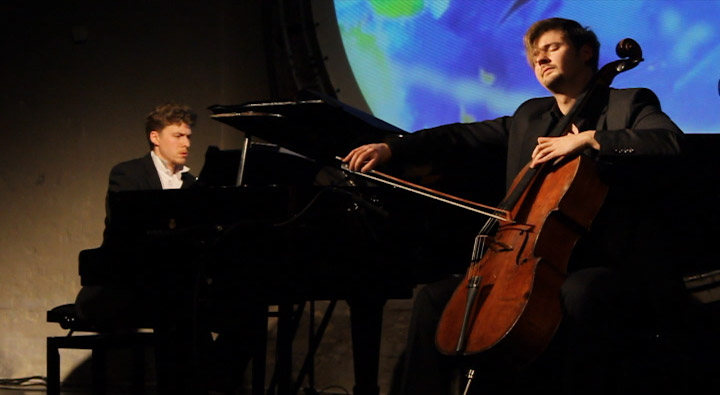 The unusual concert format, leaving on the background the academic canon, allows to percept the music as it is completely from a new aspect and immediately, without putting a stress on a composer's  personality or on certain pieces of music, or on times they were composed. Classics and modern compositions that stood the test of time harmonically merged into united, harmonious, well designed program concept, breaking the superstitious musical perception margins – by cancelling the devision between academic "serious" and popular "light" music. The musicians' mastership is equal as when virtuoso playing "light" music, as when interpreting lightly and simply "serious" music. The marvelous team-work of the musicians, their filigree playing technique and delicate interpretation of musical images will serve the audience as a sound guide in the world of music. This journey beyond the boundaries of time and space, with music as the main acting person, will join the musician from Iran Hamidreza Rahbaralam.
Musicians:
Artur Cinguyev (piano) – a golden graduate of Tchaikovsky Moscow State Conservatory, and of the master class under the guidance of the professor Eliso Virsaladze, he got a master degree in Specialized Music Performance at Bern University of the Arts. Artur performed together with K. Penderecky, I.Galante, N.Radulovich, V.Sareyka, etc.
Artur has taken part in concerts and festivals around different countries of the world: Baltic states, Germany, France, Poland, Sweden, Netherlands, Czechia, Slovakia, Switzerland, Russia. He gave masterclasses in Russia, Switzerland and also in Latvia. Artur Cinuyev performed at Concertgebouw in Amsterdam, Rudolfinum in Prague, Salon d'Honneur of Les Invalides in Paris, Glocke in Bremen and on other famous stages.
Valters Puce (cello) – a graduate of Emils Darzins Music Secondary School and Jazeps Vitols Latvian Music Academy, where he studied at Dace Puce's, Mara Villerusha's and Eleonora Testeleca's classes. Valters studied also at The University of Music and Theatre "Felix Mendelssohn Bartholdy" Leipzig at the professor's Peter Bruns. He got a master degree at Royal Conservatory of Brussels under the guidance of Jeroen Reulling. He improved his masterhood at the classes of famous cello play masters – Natalia Gutman, Gary Hoffman, Frans Helmerson, Misha Maiski, Maksim Utkin, Bernard Greenhous and Tilman Vik.Valters has performed at concerts and festivals in the USA, Russia, France, Germany, United Kingdom, Portugal, Belgium, Sweden, Norway, Denmark, Czehia, Slovakia, Poland, Baltic states etc.
Hamidreza Rahbaralam (daf) – a incomparable master of the Daf (Persian frame drum) from Shiraz (Iran). He performed at the concerts and musical festivals in Iran, Taipei, India, Turkey, Great Britain, Baltic states. Hamidreza worked with the following musical groups «Sema in Fire"("Sama dar Atash")," Biston tanbour players" ("Tanbour navazane Biston"), "Boys" ("Goran"), "Dosar" . Besides the daf he also plays stunningly such oriental musical instruments as the Setar, the Tambur, the Jumbo. His music charms and carries the audience away. You could listen to him forever, just like you listen to whisper of wind, rustle of the Baltic waves, and rumble of waterfalls.
Video