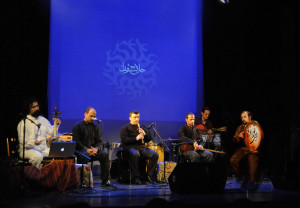 The Group «Hallâjvashân» led by Mâm-LI Merati – is the fusion of traditional Persian music and Kurdish songs, performed with Kurdish, Persian, Armenian and Spanish musical instruments. The group's compositions are the result of multi ethnic musical research made by its participants.
Mâm-LI Merati (Mohammadali) Merati – a composer, a multi-instrumentalist, and a sound engineer, is a member of SACEM – the society of authors, composers and publishers of music. He has played his main musical instrument – kamancha – for 20 years. Mâm-LI also plays ethnic music and is an expert in traditional Persian and Kurdish music.
"The performed compositions present musical expression of our perception of Jalaluddin Muhammad Rumi's (a 13th-century Persian poet) verses. We have tried to translate the message of Rumi's Universal Love, relying on his world, inenarrable, unspoken", – thus the group defines its work.
Musicians:
Mâm-Li Merati: composer, kamanche, vocal
Ihab Redvan: ud
Ali Reza Kishipour: tanbur
Artyom Minasyan: duduk
Video