Vardan Hovanissian and Emre Gültekin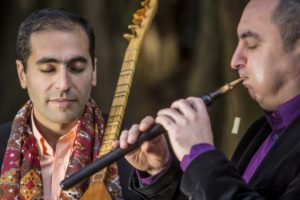 Vardan Hovanissian
Vardan Hovanissian is a well-known musician playing traditional Armenian double-reed instruments, including the Duduk. The Duduk is an ancient double-reed woodwind flute, making warm, soft, slightly muffled sound with velvety tone. It fills hearts with tantalizing emotions, thoughts about eternity, feeling of peace and calm. Vardan Hovanissian – a master of duduk – dips into this mystic state of soul. This is for a good reason that UNESCO included playing this unique ethnic instrument into the list of masterpieces of intangible cultural heritage of humanity.
Vardan Hovanissian learned Duduk under the guidance of a master instrumentalist Khatchik Khatchatryan. Having grown up on traditional Armenian music, he improvises with music of various countries at whim, combining folk and jazz rhymes. His name became well-known worldwide after he started his cooperation with Yasmin Levy, Arax, Hijaz and Blindnote, with joint concerts held in Europe, Canada, Australia and Asia.
Emre Gültekin
In the Gültekin family playing music is as natural as breathing. Born in 1980 in La Louvière (Belgium), Emre discovered music thanks to his father Lütfü Gültekin teaching him to play the saz, a long-necked lute capable of generating the most subtle harmonies. Elusive and complex, crossing cultural boundaries, the instrument was widely adopted throughout the Middle East – ranging even to Siberia – in various forms, but it was in Anatolian music that it reached its artistic apogee and greatest expression.
His further musical education Emre took at such great masters as Talip Ozkan and Mustafa Karaçeper, whose compositions play an important role in the Turkish folk song repertoire.
Today Emre is an accomplished artist in his own right, engaged in many musical projects and interacting with diverse influences. He is refining his mastership together with musicians from many different backgrounds, from Malick Pathe Sow (Senegal) to Goran Bregovic (Serbia), to Véronique Gillet (Belgium) and Dadmehr (Iran). He also plays in groups such as Blindnote and his family group Gültekinler and has started to write film music alongside his day job as a sound engineer.
Video