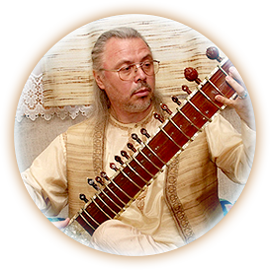 Anatoly Lomonosov is widely known in the musical spheres of the Baltics and Poland. He was the first in Lithuania in faraway 1981, who started playing classical music of Northern India (Hindustani) on the Sitar.
In 1984 he founded the musical band "Svara", performing northern Hindustani classical music.
From 1985 till 1987 he studied at Avisha Kulkarni's (Karthik Kumara school).
Since 1987 he has been a student of the legendary sitar player Ustad Imrat Khan – the patriarch of Etav Gharan in the tenth generation. He several times has undergone a training at his master's in Calcutta. Anatoly performed in RamaKrishna mission, on Calcutta and Gorky Sadan TV (Calcutta).
A.Lomonosov took part in the concerts with such Hindustani classical music masters, as Fasal Kareshi, Anindo Chatterji, Vasi Ahmed Khan, Shri Rudra Narayan Kalyani, Serey ANcupov, as well as with Lithuanian Jazz musicians and Lithuanian State Symphonic Orchestra.
He recorded and produced four musical volumes.
Besides his concert activities A.Lomonosov teaches Hindustani classical music, organizes the musical festival "SurSadhana" in Lithuania.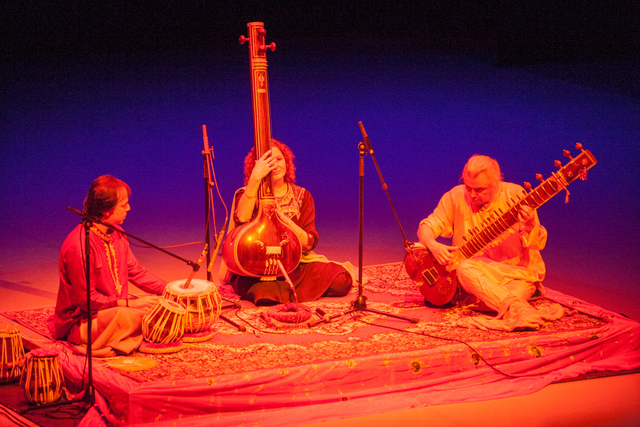 Together with A.Lomonosov his student Olga Savina (Tempura) will perform, and a young but promising Tabla player from Latvia, Edward Samersov, presenting the only in the Baltics school of Hindustani classical music "Saraswati" in Riga.
Edward Samersov has become familiar with music since his childhood. He has been playing the Piano and the Cello since 5 years. He studied playing the Tabla at Ritis Kamichaitis' and Snjiu Shahaj-the patriarch of Benares Gharana.
Video
Photo