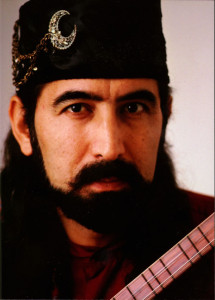 Turkish Singer, Composer and Scholar of Turkish Music and Folklore Latif Bolat is a native of the Turkish Mediterranean town of Mersin. After receiving his degree in folklore and music at Gazi University in Ankara, Turkey, he taught traditional music throughout the country. He then went on to manage Ankara Halk Tiyatrosu, a musical theater company, which performed traditional musical plays. Latif Bolat also received additional degrees in Turkish History and Middle East Religion and Politics from Ankara University and an MBA from San Francisco State University.
Now residing in the USA, Latif Bolat is one of the most distinguished Turkish musicians in this country. He has presented concerts and lectures at colleges, universities, performing arts institutions and festivals across the US, Canada, England, Ireland, Australia, New Zealand, Bulgaria, Philippines, Scotland, Singapore, Indonesia and Turkey. With a vast repertory that includes songs in classical, folk and Sufi music styles, he accompanies his singing on the baglama and various other traditional instruments from the Turkish folk music tradition.
Specializing in the ancient Turkish devotional music genre, Latif Bolat has been received with appreciation and enthusiasm throughout the world, as he provides a unique philosophy and approach to the performance of traditional music. By creating an intimate, almost "storytelling" atmosphere, he explains Turkish folk and devotional music and its sociopolitical and cultural elements.
Latif Bolat released four CD's, composed soundtrack music for TBS documentary "Mohammed: Legacy of a Prophet" and George Lucas Studios TV series "Young Indiana Jones". He also is co-author of Turkish Sufy poetry "Quarrelling with God" which is published by "White Cloud Books" in 2008.
Video