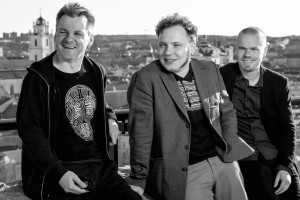 Saulius Petreikis is one of the few people in Europe who has a unique collection of musical instruments from all over the world and is using them to create and perform his own music. Although Saulius studied classical trumpet in Klaipėda's Stasys Šimkus Conservatory (2001-2004) and Lithuanian Academy of Music and Theater (2004 – 2010), and played in brass band "Trimitas" (2006 – 2008), during the last ten years he is genuinely exploring the World Music, especially Persian tunes.
While playing music he connects light-playfulness and deep sincerity, spontaneous expression, and inclination to a synthesis of different styles. Saulius professionally plays various wind instruments from all over the world; he can skillfully handle classical and Indian bansuri, Chinese hulusi and dizi, Greek floghera, North and South American, Nepalese flutes, Irish and Scottish flutes, Persian ney, Armenian duduk and zurna, Slovakian fujara, Italian, South American and Hungarian ocarina, Australian didgeridoo, Caribbean shells, Slovakian whistle, harmonicas. He can also play Hawaiian ukulele, African kalimba, shekere, djembe and is practicing Tuvan guttural singing or Tibetan overtone chanting. Raised in a family of folk musicians, of course Saulius pays a lot of attention to Lithuanian folk music – he plays various horns, whistles, reed-pipes, panpipes, Pentecost horns and kanklės. Saulius Petreikis is always looking for new sounds, is daring to experiment and improvise, that's why many masters from diverse countries are constantly giving him compliments for a rapid improvement in playing. He was learning the secrets of Eastern wind instruments from Armenian, Persian and Indian players: Djivan Gasparian, Muhammad Rasouli, Nadaprem (Ernest Japifanov).
Saulius Petreikis has a colorful program that differs every time according to the audience and the space where it is played. Together with Saulius at Festival venue will perform:
Jonas Krivickas is an experienced musician, a composer, lyrics writer and performer, who plays in bands like "Saulius Petreikis Orchestra", "Last Coin" and "Skylė", he also writes and plays his original songs which are born on a long path of quests and discoveries. Spanning over a broad range of themes, their lyrics offer a subtle reflection of the author's world-view – like a canvas patterned in rich undertones of sorrow, love, jazz, joy and blues. Jonas also is a music teacher who guides young souls in finding creative powers and improving guitar skills.
Tadas Dešukas – studied in Vilnius M. K. Čiurlionis gymnasium, at the string department, violin, and continued his studies at the Vilnius College, the Department of rhythmic music. Tadas participated in the "Republican Domo Svirskis Young Performers Competition", and in the International Violin mastery "Druskininkai 1997". His teachers were Danutė Pomerancaitė, Yuri Mazurkevič. In 2006 he took part in Jewish folk music and improvisation master classes "Raft musicians' (Sejny) from Paul Brody (Germany), Frank London (USA), Michael Alpert (USA), Stuart Brotman (USA).
.
Video
Photos