Alper Akçay and trio "Hamdam"
Alper Akçay and trio "Hamdam"
26.09.2019 – 19:00 – Riga Latvian Society House
The musical program of the Festival is opened with the concert by the Turkish dance virtuoso Alper Akçay accompanied by the trio of Iranian musicians "Hamdam".
Art and music of the East have many faces and facets, and this performance unites very distant in time époques and aesthetic types of art – oriental choreography, combining traditions and modern trends, and Persian music, dating back to ancient times.
Alper Akçay, a talented multigenre artist, will demonstrate to the audience his mastery in dance improvisation and original pieces of choreography based on ancient mystic Sufi rituals, merging whirling and dance. He will perform together with the trio "Hamdam", playing the repertoire that mainly comprises compositions based on poems by the greatest Sufi poet and philosopher Jalaluddin Rumi. The dance and the music, weaving lace from melodies and movements, will tell us that the magic of art brings colours of joy and inspiration to the world. Lyrical and entrancing mix of Rumi's poetry, sounds of Ney (reed flute), played by one of the world best Ney players Dariush Rasouli, completed by Iranian Daf and Kurdish Lute will enchant the audience, as music indeed is a transcendent world, strings of life itself.
During one of his visits to Riga Alper Akçay took part in a photo session by Alex Ribowski, a famous master of photography, whose works are presented in the gallery on our web-site.
Alper Akçay – an artist and ritual dancer
Known far beyond Turkey, Alper Akçay was born in 1977 in Istanbul – the city that since ancient times has been standing on the border between two continents – Europe and Asia, in the place where cultures, traditions and arts mix together.
Riga audience may be familiar with Alper's name, as he performed together with Saulius Petreikis, a multi-instrumentalist from Lithuania, Dariush M.Rasouli, an Iranian ney player, and Latvian musicians of various music styles at the festival "RUMI FEST" and at the concerts "The Touch of Eternity" and "The Dance of Love" in Riga.
Alper Akçay achieved his higher education in Istanbul Bigli University, he graduated the faculty of visual communication design with a master degree. To complete his education and knowledge, Alper continued improving and refining his choreography, attended seminars and schools of modern dance. He studied improvisation, folk dance, also the modern Japanese dance Buto, basic anatomy and relaxation massage. Since 2003 he has been taking part in different music projects, he actively collaborates with dance performers from Turkey and abroad, he is an artist in Istanbul Modern Theatre, a member of the Society of Experimental Artists and UNESCO International Dance Council CID.
Recently he has started working with a Turkish rock singer Hayko Cepkin. Also Alper Akçay runs and participates in workshops on creative and healing movements, sacred dances of Anatolia and Cetral Asia, meditative dance practices and circle peace dances. Alper Akçay has friendly relations and cooperation with many artists performing in various dance styles, but he prefers his own improvisation. Besides classical Turkish musical instruments Alper uses electronic music and modern sound technologies in his installations. Over the past years Alper Akçay has been busy in his illumination project "Tasavvur", merging traditions and nowadays. Impressed and inspired by mystic Sufi rituals, especially by Sufi whirling, he designed his original piece of choreography, unique dance ornament, comprising both whirling and dance. As since old times all the shades of emotions have been transferred using music and dance.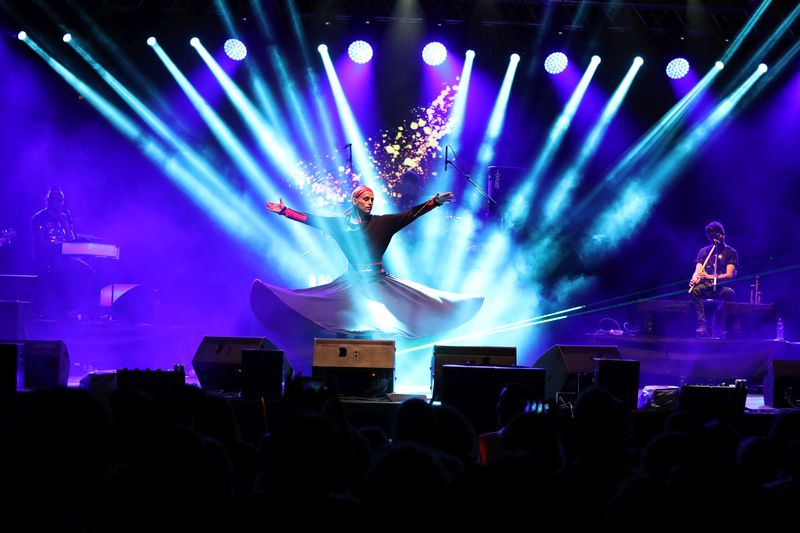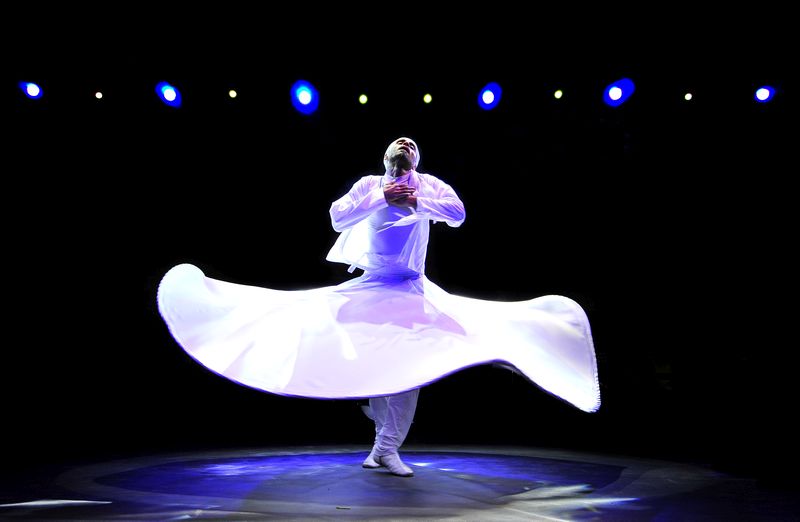 "Hamdam" Trio
Their repertoire consists mainly of Sufi music in Kurdish and Farsi, as the musicians come from Kurdistan and Iran. The selected pieces transfer the idea that a human may reach harmony with the outer world via internal transformation. The pieces of music are written based on the poems by Jalaluddin Rumi, the greatest Sufi poet and philosopher, while Kurdish songs are written by Sadollah Nasiri, one of the trio members. Most of the compositions speak about love and human existence. During some musical compositions Sufi whirling, or mystical dance-prayer is performed.
The biggest part of music was composed by Sandollah Nasiri and Dariush Rasouli based on Persian Sufi melodies.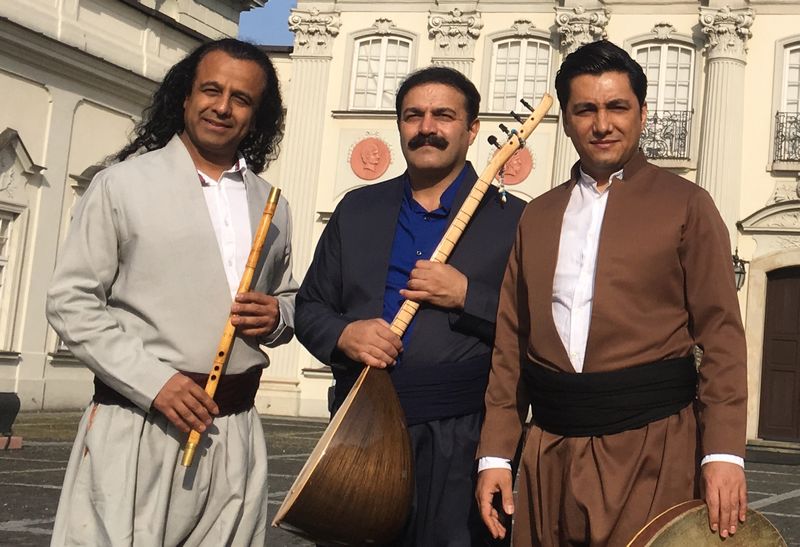 Dariush Rasouli – Ney
Was born in the North-East of Iran. He has been learning the Ney (Persian classical flute) since 1991 from Master Mehdi Ebrahimi, graduated from Tehran Art University, Department of Music, learned Radif Davami – vocal repertoire of Persian music and Radif Mirza Abdollah – instrumental repertoire. After finishing the academic education, he continued his music studies with such masters as Mohammad Ali Kiyaninejad, Abdolnaghi Afsharnia and Hasan Kasai. Dariush is a member of "Chakad" ensemble. When he lived in Iran he was teaching Ney in different music schools in Tehran and Gorgan.
Since 2004 he has been living in Warsaw, giving many solo concerts and also performs with other renowned artists, such as Alireza Javaheri, Bahman Rajabi, Bahram Sarang, Hooshang Farahani, Polish musicians such as Maria Pomianowska. In Poland, in order to promote Persian music in Europe, he founded Hamdam Trio and Farsi-Polish ensemble, and continues participating in plenty of other projects. He recorded several solo CD's, played in the "Transoriental Orcherstra Kayah" and also in music films such as "SZUKAŁEM WAS", "WINO TRUSKAWKOWE" (composition of the great Polish composer Michał Lorenc), "TRICK" (the composer Paweł Mekietyn).
Dariush Rasouli performed solo Ney with Chakad ensemble, Zespół Polski at numerous international music festivals, and have participated several times in the Festival of Oriental Art and Music "RUMIFEST" in Latvia,
He gave concerts in Iran, Poland, Lithuania, Latvia, Estonia, Austria, Germany, Switzerland, Italy, Great Britain and Japan, played as a soloist in Poland with different Polish Philharmonic orchestras the composition NeyNava, such as Kalisz, Gorzòw, Radom,Szczecin, Słupsk, Łódź, Beethoven Orchestra Krakow and Katowice Orchestra, also with the Philharmonic of Vilnius, Lithuania and the Philharmonic of Liepāja, Latvia.
Dariush Rasouli regularly gives concerts of Persian and Sufi music, runs workshops of Persian songs with a stress on Sufi songs, teaches the technic of playing Ney and Radif, the system of Persian classical music (Radif Davami), all over the world.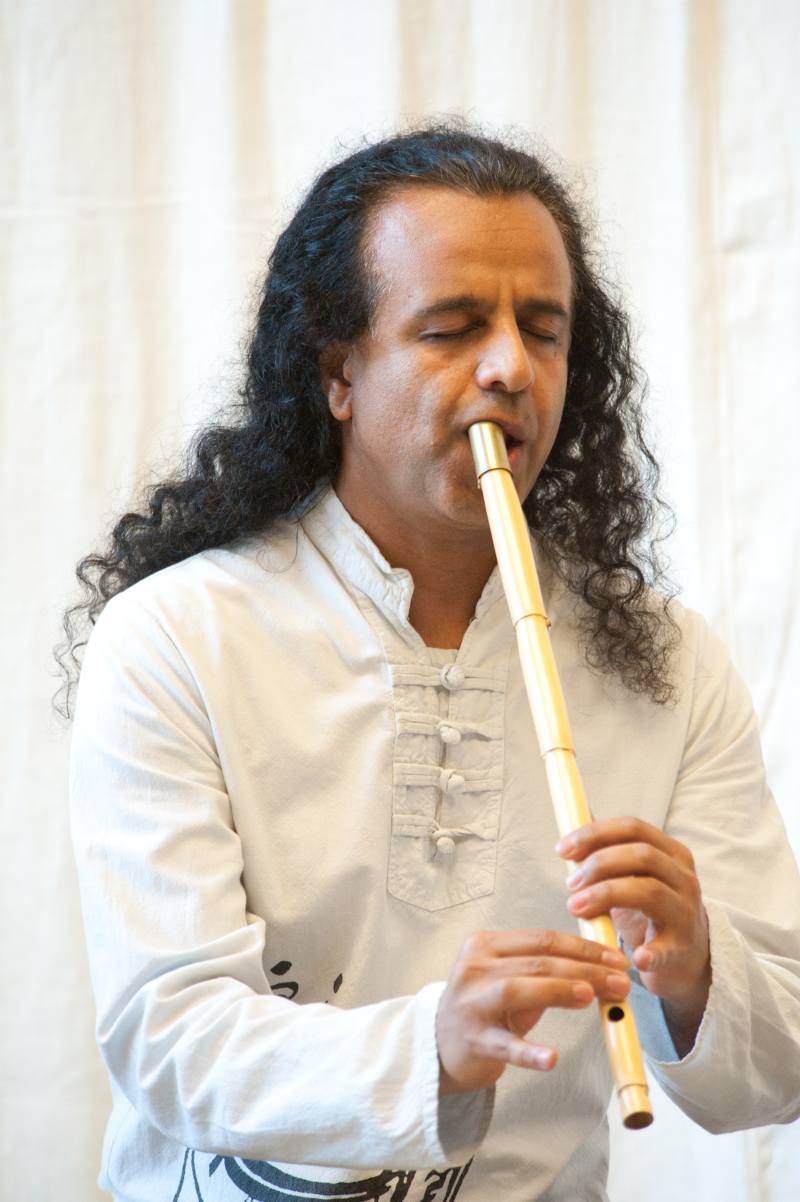 Sadollah Nasiri – Kurdish lute (the Divan)
Was born in 1976 in Hanis, a small village near Sanandaj, Iranian Kurdistan.
Sadollah began his musical studies at the age of 5, when played the Daf in a Sufi house, and learned Kurdish maqams from his father who had excellent voice. At the age of 12 he studied general theory of music and began to play the Divan (Kurdish Lute) and at the age of 15 he composed the music to "Daughter of the sun" and received the prized for the best incidental music. At age 17 he received another prize for the score of "Mahpareh".
By 2001 he had composed more than 40 songs, many of which were rewarded and honored on different occasions. His other prizes include those for singing, Divan and Daf granted to him at the first and second Kurdish Music Festival.
His other contributions include score for the film "Pendar" (Leyla Mirhadi), songs for "Tcherike-ye Hooram" (Farhad Mehranfar) and music for a television theater. Sadollah has wide concert tours in Iran and abroad and has played at int'l fairs. He contributed in Zhuan (collection of Kurdish melodies by Said Farajpuri) and three divan collections. Although he is principally self-taught in music, he has been apprentice to some of great Hawrami poets.
He is the first to play and record the Persian classical music on the Divan in the system of 7 dastgah.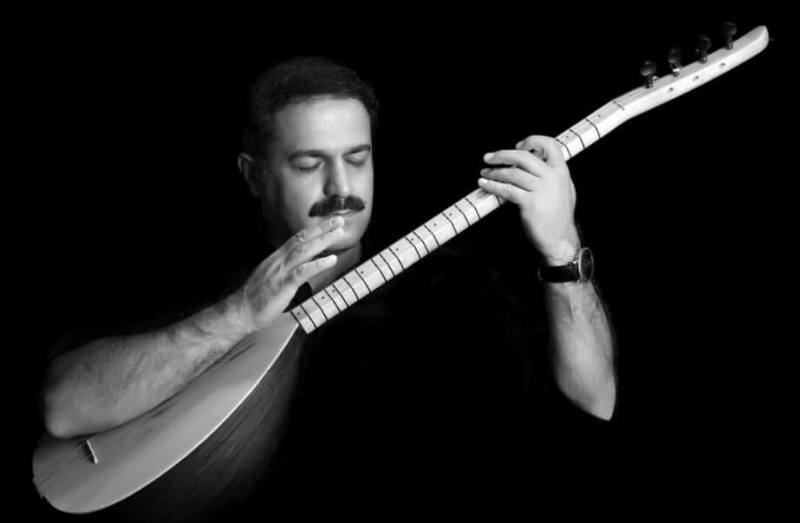 Arad Emamgholi – Daf
Was born in 1983 in Sanandaj, Iran. He started playing the Daf at the age of 5 and in 1992 he began his music carrier. He participated in many musical festivals and was rewarded 4 times at the Festival of Kurdistan province and in other parts of Iran. Arad cooperated with renowned Iranian composers and singers. Arad Emamgholi recorded his own CD. He gave concerts in Denmark, Sweden, Turkey, Poland, Iran, Lebanon and many other countries. Arad is a Daf teacher and he organized his own workshops, while being engaged in many different musical projects, especially in those ones with Ney master Dariush Rasouli.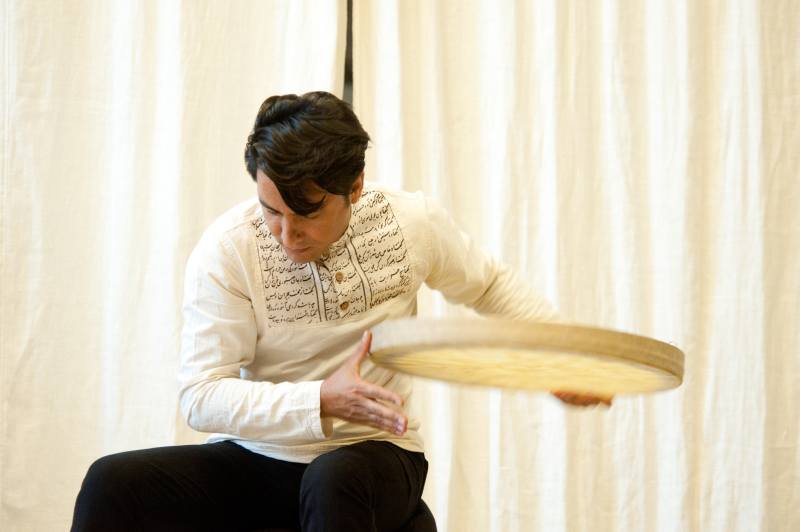 Alex Ribowski (1954-2017)
Alex Ribowski was born in Jurmala, Latvia. In 1979 he moved to Germany with all of his family, and received a PhD in Biology there. For some years Alex Ribowski was working with ceramics and pottery, and exhibited his works in Germany and Italy. He worked for leading advertising agencies. But the real passion of Alex Ribowski was travelling. After visiting India, Tibet, and Turkey he went to many saint places, learned about ancient teachings and beliefs. Inspired by his pilgrimages and realizing that the art of photography can reveal the depth of personal senses, creative process itself became his spiritual path. Being about transcending the usual understanding of surrounding reality, and feeling the presence of infinite mystery of human life, Alex Ribowski turned photography into mediation. Probably, that is why his works are saturated with mysticism, produce the feeling of unreal reality, and are lit from within with every luminous moment of existence.
Tickets can be purchased:
on Biļešu Serviss website www.bilesuserviss.lv,
at Biļešu Serviss ticket desks around Latvia,
at the concert hall before the concert.
Riga Latvian Society House, 26.09.2019 – 19:00.