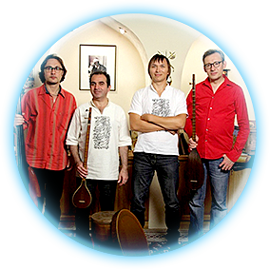 "Harabat-band" is a creative alliance of musicians from St.Petersburg Oleg Zaslavsky (Guitar, Tambour, Saz, Daf, Doira), Grigory Eorkin (Stick) and Andrey Kulyomin (Bayan). The band also cooperates with the Kurdish musician and composer living in Minsk, Masud Talebani (Sitar, Daf, Tombak, vocal). The band formed in 2010.
"Harabat-band" performs Persian poetry, as well as modern and SIlver age poetry set to self-composed music. The band produced the studio album "Ray coming from a Friend's face"("Луч от лика Друга"), recorded in 2014.
For the first time in the history the musicians managed to merge music of Persian dervish sessions and Russian poetry, having preserved traditional Sufi melodies and rhythms in doing so.
Some of "Harabat-band" members play not only at public concerts but also at the Sema rituals.
Video