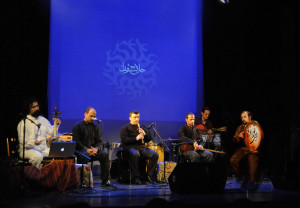 Directed by Mâm-Li Merati, "Hallâjvashân" is a fusion of traditional music Persian and Kurdish song interpreted by Kurdish instruments, Persian, Armenian and Spanish. It is the result of years of ethnomusicology research.
Mâm-Li (Mohammadali) Merati, a composer, a multi-instrumentalist and a sound engineer is a member of SACEM. His main instrument is the kamanche that he has practiced for twenty years. He is also an ethnomusicologist, traditional Persian and Kurdish music specialist.
This project is the musical expression of how we feel the poems by Jalal ad-Din Muhammad Rumi, a Persian poet of the thirteenth century. We tried to translate Rumi's message of Universal "Love" by referring to the source of his word, indescribable, ineffable.
Band members:
Mâm-Li Merat: composer, kamanche, vocal
Homayoun Kazemi: Persian vocal
Ali Reza Kishipour: tanbur
Artyom Minasyan: duduk
Dani Barba Moreno: flamenco guitar
Hamidreza Rahbaralam: daf
Video