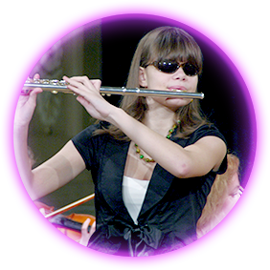 Maija was born in Dobele, on 8 March, 1997. Since she was eight years old she has been acquiring mastership of the Flute play at Jugla Music School under the guidance of Iveta Larinya.
From 2007 she has been actively and successfully participating as in Latvian, as in International music contests. Maija has been awarded many times with the prize of Latvian Music Schools Contest for woodwind and brass instrument performers in the group of Flutes and of International Music contest "Young Flute Player". She took the first place in X European Grand Prix of Music "Mendelssohn Cup" in Taurisano (Italy), the first place in Anton Eberst Flute Players Competition in Novi Sad (Serbia), received recognition as the youngest finalist of 12th International Music Competition in Chieri (Italy).
Maija participates not only in competitions, but also performs at different concerts as a solo player, and as a member of a musical team. She played solos with the orchestra under the guidance of Andris Veimanis, gave concerts together with LU orchestra under the guidance of Janis Purinsh and with the Chamber Orchestra «Armonico» under the guidance of Normunds Dregis.
Видео